Lightning, and Other Storm Pictures
Dodge County, Wisconsin - July 7, 2008

Fond Du Lac County, Wisconsin - October 18, 2007

September 21, 2007 - With a squaline approaching from the west, I headed to the east side of Horicon Marsh, and faced west towards Waupun. I'm always hoping to get a picture of one of the prison lights getting struck, which happens fairly often. Still no luck.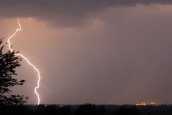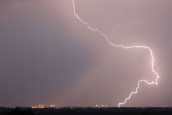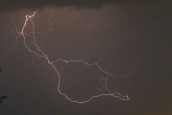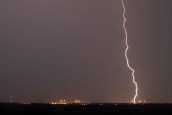 October 1, 2006 - On highway 49, half way through Horicon Marsh, I got these lightning pictures aiming to the west, and south. Check out the neat looking clouds in the first (8:18PM), and second (8:24PM), pictures, and the angle of the rainshaft in the third (9:50PM) picture.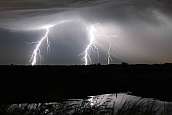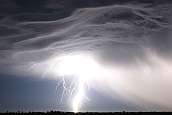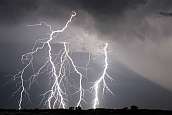 Columbia County, Wisconsin - June 6, 2006
June 30, 2005 - A squal line was approaching from the west, so I headed to the east side of Horicon Marsh, to shoot lightning to the west across the marsh, getting pics 1-4, between 1:30 and 2:45AM. As it passed over, with lightning in all directions, I decided to aim north, and got the 5th picture at 2:51. After passing over, I aimed east, and got the 6th picture at 3:04. Total lightning pictures that night: 34.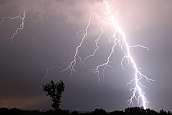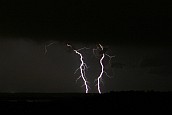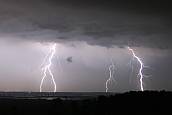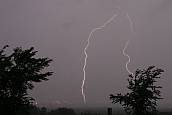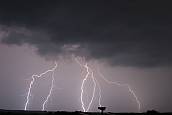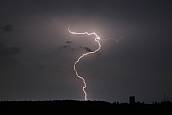 Dodge County, Wisconsin - March 30, 2005
Waupun, Wisconsin - June 23, 2004
May 24, 2004, while storm chasing with my brother in Iowa. We pulled over for some good photo oppertunities of a nice updraft base. Using the Lightning Trigger, I got the following shots including the first shot, striking only about a mile out in the field. The second is a close-up of the base of the bolt.
May 7, 2004 Looking west across Horicon Marsh, at Waupun 6 miles away. Between 9:30 and 10:00 PM.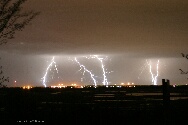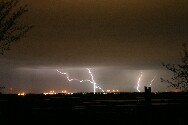 April 16, into early morning of the 17th 2004. Spectacular light show in the sky, but rarely hitting the ground. Pic 1) Looking west across Horicon Marsh 11:59PM. 2 and 3) West side of Waupun, looking southwest, 1:41AM and 1:45AM.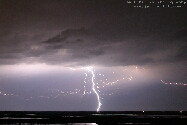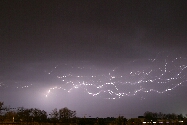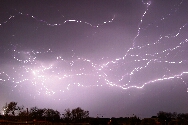 Unseasonaly warm weather brought early thunderstorms through Wisconsin March 1, 2004 (note the snow in the foreground). Northeast corner of Horicon Marsh, looking East, striking around Lomira. 5:00PM 1/60 @f/5.6 Taken with the Lightning Trigger.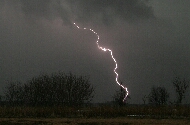 August 28, 2003 On the east side of Horicon Marsh, looking northwest (pic 1), then west at Waupun, 6 miles away (pics 2 & 3). Pic 1) 133 seconds @ f/4.0 9:05PM; pic 2) 33 seconds @ f/4.0 9:22PM; pic 3) 7 seconds @ f/4.0 9:44PM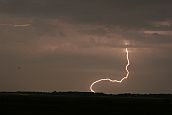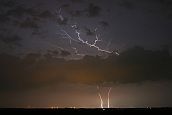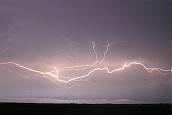 A wall cloud over Portage, Wisconsin. June 25, 2003, 3:00PM
My first lightning shot. West side of Waupun. Hwy 49 and A, looking north on 49. After it started raining, I went home, and got the next one from my driveway, looking northeast over my garage. July 31, 2003, 10:48, and 11:02PM
On Hwy 49 on the west side of Horicon Marsh, looking north. August 1, 2003, 9:27PM - 28mm 60 seconds @ f/4.0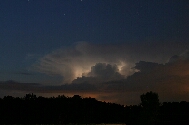 Back to the PHOTO GALLERY
Back to Jeff's HOME PAGE