Columbia County Tornado June 6, 2006
Although what started out to be a marginal chance of tornados, got downgraded to a slight chance, by the Storm Prediction Center, my brother Doug and I decided to go after a couple isolated cells that fired up in western Wisconsin at 4:30, expecting only "typical" storms.
By 6:55, we were getting very close to some good looking storms, but our timing was bad... we were in the middle of the city of Wisconsin Dells.

At 7:00, we were a mile out of town, heading southeast on highway 16, when we came up on this tornado another mile ahead of us.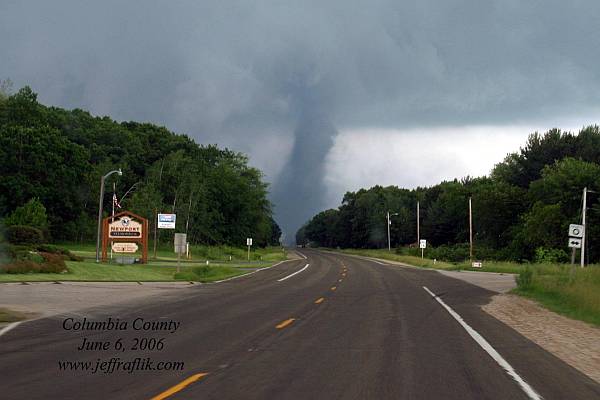 The rotation continued, but temporarily lacked a visual condensation funnel. This picture was taken at 7:04, as it reappeared off to our right.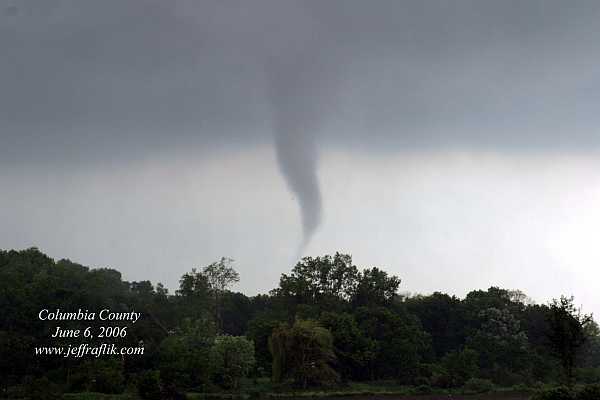 As we passed through an area of trees at 7:05, and lost sight, we came up on some branches in the road.

As we cleared the trees at 7:06, we quickly pulled over to photograph the tornado just beyond the powerlines and railrod tracks, hardly a quater mile away from us. The condensation funnel was only half way down, but the tornado was clearly on the ground, as indicated by the debris cloud.

As the tornado moved on, and the rain increased, we continued on.
25 minutes later, at 7:30, we were well ahead of the storm, and had this view of a large debris field, with reports of multiple vortices, as it was passing over Cascade Mountain ski area, just west of interstate 39. Semi trucks were blown off the freeway.

After the storm moved in on us, we moved a short distance to another location, where Doug set up his video camera next to where I was photographing, backed up, and took this picture. The storm closed in on us once again, and as we were rushing to get back in the van, we were catching 60 mph winds from the left... the leading edge of rotation.
Back on the road, and still hearing reports of multiple vortices on the HAM radio, we were desperately trying to get to the next bridge crossing the Wisconsin River. We came up on some signs for a ferry crossing, and turned in to take a peek. As luck would have it, it was just finishing unloading.
We immediatly got on, and were heading accross the river, hardly a 5-minute ride, that saved us 20 miles of driving
On the other side of the river, on highway 113, heading to highway 60, there were still a couple great looking updrafts, but due to lack of daytime heating, the intensity of them was diminishing quickly.


National Weather Service Update (next day)
Started 3 miles east of Wisconsin Dells. On the ground from 6:54-7:40, for 16 miles (average speed of 21 mph). Rated as an f1 (75-115 mph wind speeds) Passed directly over Cascade Mountain ski area, and Interstate 90.

Back to the LIGHTNING and STORM PAGE

Back to the PHOTO GALLERY

Back to Jeff's HOME PAGE