Aurora November 20, 2003
An aurora web page indicated strong levels of auroral activity all day, based on solar wind speed, so I took my camera out to Horicon Marsh as soon as it got dark. As it got darker, I was very dissapointed, as I was seeing nothing while sitting in my car facing north...
28mm 15seconds @ f/4 5:46PM Before giving up and going home, I took this picture of some clouds, lit up by a small town to the southeast (I think Mayville). I didn't see the aurora until I looked at the 15 second exposure on my LCD screen. Looking back to the sky, I noticed several areas of northern lights, all to the south!
28mm 20 seconds @f/4 5:49PM Looking SSE
28mm 20 seconds @f/4 6:11PM Looking down the entrance to the Horicon Marsh auto tour..... Straight South!!!
28mm 20 seconds @ f/4 6:15PM Looking SSW
28mm 20 seconds @ f/4 6:34PM Looking SSW
28mm 20 seconds @ f/4 6:45PM Looking NE at the "Marsh Haven" Nature Center. My last shot before going home, showing a green sky through one of the last holes in all the clouds that moved in.
28mm 20 seconds @ f/4 11:51PM Five hours later, the skies cleared up and the northern lights are better than before! Looking NE
11:53PM Looking NNE
Still 11:53 back to the NE
11:53 A combined image of the above two pictures, digitally merged together for a panoramic view.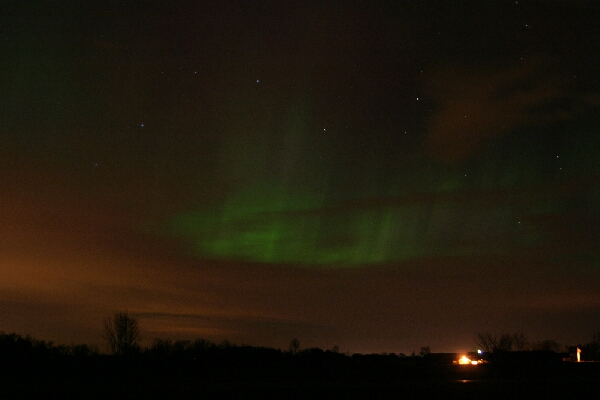 A minute later at 11:54
Nine minutes later at 12:03AM
Back to the AURORA PAGE
Back to the PHOTO GALLERY
Back to Jeff's HOME PAGE